Welcome to American Cultures
AC News and Events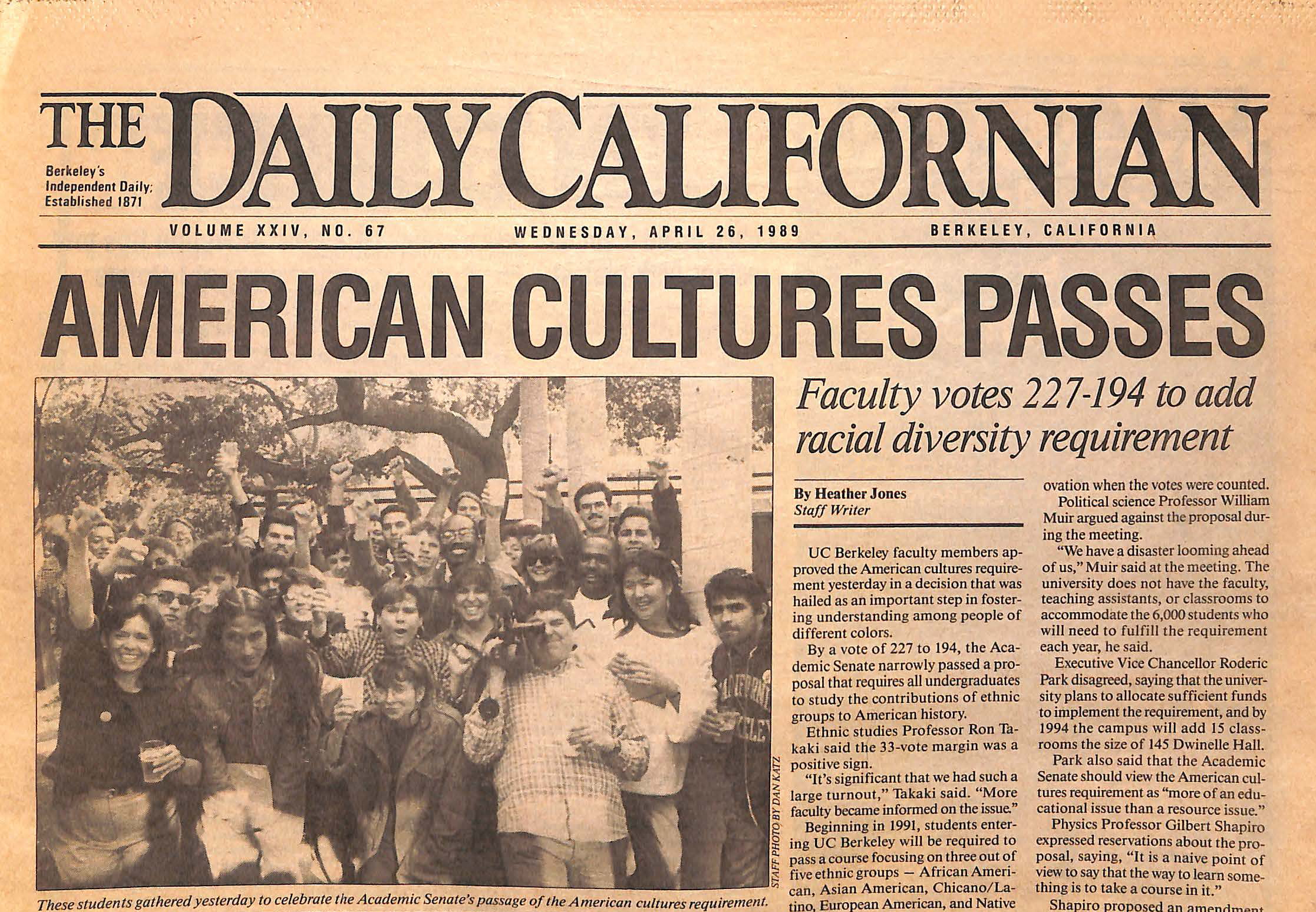 The American Cultures 25th Anniversary Event   
On the afternoon of April 25th, 1989, Berkeley Senate Division Regulation 300, the campus-wide Breadth Requirement for American Cultures (AC), was passed with a Senate faculty vote of 227-194. The creation of the UC Berkeley American Cultures (AC) requirement was complex and formed in the midst of anti-racist struggles and the rise of multiculturalism. Today, those struggles are not forgotten and sit alongside new activisms and political confrontations. A week-long series of events from the 21st - 25th of April, 2014 will critically examine this political-intellectual lineage.  All events are open to the Public.  If you would like to attend any of the events, please send an email to Douglas Parada at dparada@berkeley.edu, and indicate which day(s) and how many guests you will bring. Download Anniversary Flyer
Keynote Speech Registration
The American Cultures Innovation in Teaching and Student Research Prize: Deadline Extended: April 23
The American Cultures Innovation in Teaching and Student Research Prize are intended to recognize the use of pedagogical developments to enhance the students' learning experience in the American Cultures classroom and the standard of excellence in scholarship, fitting with the core intention of the requirement - to create promote the understanding of race, ethnicity and culture in a comparative and integrative fashion.  All members of the Academic Senate, non-Senate faculty, instructors and any student having taken an AC course are eligibile to apply. The Deadline for these awards has been extended to April 23, please visit the link below for more information on how to apply or nominate candidates.  
UC Berkeley's First Wikipedian-in-Residence 
For the past two years, UC Berkeley student and Wikimedia Foundation member,Kevin Gorman, has supported the ACES program. Kevin has helped faculty and students in the program develop Wikipedia pages based on the interests of the community partners they are working with. This Spring that relationship reaches a new level, with Kevin now the 'Wikipedian-In-Residence' for the ACES program. This is a development for both the ACES program and also the Wikimedia Foundation who a few months ago announced the development of the Wiki Education Program.