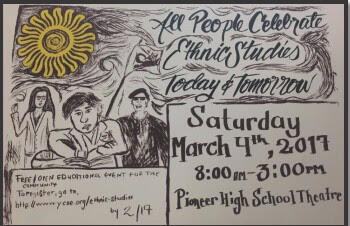 Chicano Studies 180 - Topics in Chicano Studies
Instructor: Celia Rodriguez
Semester: Spring 2017
In honor of Yolo County's approval of the K-12 Ethnic Studies Program, ACES students from Celia Rodriguez's Chicano Studies 180AC participated in an art exhibit titled "All People Celebrate Ethnic Studies Today & Tomorrow" at Pioneer High School in Woodland, CA on March 4th, 2017.  
For this exhibit, ACES students developed and led a workshop entitled ArtE of Storytelling with Heart & Vision. Students also worked with Gilda Posada, an artist and graduate student at UC Davis in the MFA in Visual Art and MA in Visual Criticism Program in printing the silkscreened paintings.