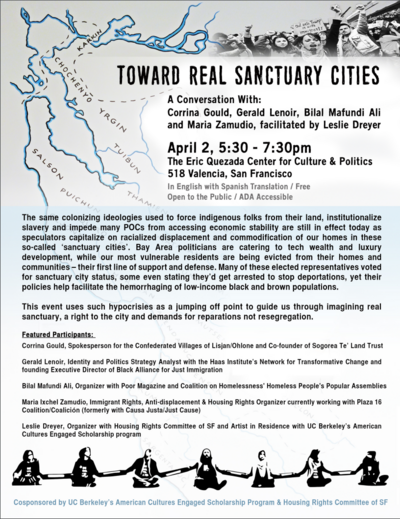 Toward Real Sanctuary Cities
A Conversation With:
Corrina Gould, Gerald Lenoir, Bilal Mafundi Ali
and Maria Zamudio, facilitated by 

Leslie

 Dreyer
The Eric Quezada Center for Culture & Politics
518 Valencia, San Francisco
[In English with Spanish Translation / Free 
Open to the Public / ADA Accessible]
Details:
The same colonizing ideologies used to force indigenous folks from their land, institutionalize slavery and impede many POCs from accessing economic stability are still in effect today as speculators capitalize on racialized displacement and commodification of our homes in these so-called 'sanctuary cities'. Bay Area politicians are catering to tech wealth and luxury development, while our most vulnerable residents are being evicted from their homes and communities – their first line of support and defense. Many of these elected representatives voted for sanctuary city status, some even stating they'd get arrested to stop deportations, yet their policies help facilitate the hemorrhaging of low-income black and brown populations. 
This event uses such hypocrisies as a jumping off point to guide us through imagining real sanctuary, a right to the city and demands for reparations not resegregation.  
Featured Participants:
Corrina Gould, Spokesperson for the Confederated Villages of Lisjan/Ohlone and Co-founder of Sogorea Te' Land Trust
Gerald Lenoir
, Identity and Politics Strategy Analyst with the Haas Institute's Network for Transformative Change and founding Executive Director of Black Alliance for Just Immigration
Bilal Mafundi Ali, Organizer with Poor Magazine and Coalition on Homelessness' Homeless People's Popular Assemblies


Maria Ixchel Zamudio, Immigrant Rights, Anti-displacement & Housing Rights Organizer currently working with Plaza 16 Coalition/Coalición (formerly with Causa Justa/Just Cause)


Leslie
 Dreyer, Organizer with Housing Rights Committee of SF and Artist in Residence with UC Berkeley's American Cultures Engaged Scholarship program
- Event cosponsored by UC Berkeley's American Cultures Engaged Scholarship Program & Housing Rights Committee of SF