This spotlight feature includes American Cultures Engaged Scholarship faculty member Dr. Sean Burns's course "Social Movements, Urban History, and the Politics of Memory" (IAS 158AC / PACS 148 AC).  This course examines the extensive multi-racial social movement history of the San Francisco Bay Area. The primary assignment of the course is a student-defined research project where students, in collaboration with local activists and community partner Shaping San Francisco, carry out original research and writing to contribute to the dynamic Bay Area social history website FoundSF.
For this course, Burns has won the Chancellor's Faculty Civic Engagement Award (2014) and the American Cultures Teaching Innovation Award (2015). Combining history, sociology, urban geography, and ethnic studies, the course asks questions such as: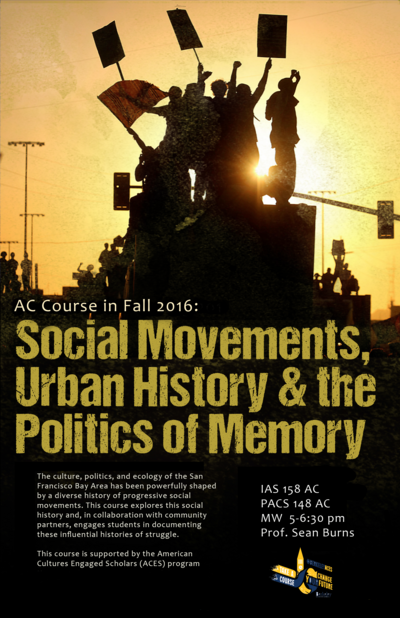 Why and how these movements emerged?
What cultural, racial, ethnic, and political identities were drawn from, reconfigured, and created in these movements?
What kinds of knowledge and institutions were created by these movements? How have these legacies shaped the culture and politics of the area?
For their research projects, students have collaborated with dozens of progressive organizations and activists around the Bay including but not limited to:
Multiple libraries and archives around the Bay– including their brilliant and generous staff – have vitally supported the student research; for example the Bancroft Library, UC Berkeley's Ethnic Studies Library, the GLBT Historical Society, the Freedom Archives, KPFA, Docs Populi, and SF State's Labor Archives and Research Center. For read examples of student projects, please visit the IAS Student Projects page or FoundSF's archive on Bay Area Social Movements.
---
The East Bay Express has written two stories highlighting Burns' course:
April 2015: "Making History" 
April 2015: "Tumbling the Ivory Tower"
Download a copy of the most recent syllabus for "Social Movements, Urban History, and the Politics of Memory."