The Innovation in Teaching Award recognizes faculty who have created original, cutting-edge teaching plans that enhance both the goals of the American Cultures requirement and students' learning in the classroom. The applicant pool was highly competitive, so much so that awards were presented by the selection committee to two faculty.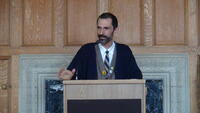 SEAN BURNS
, Director, Student Programs, Blum Center for Developing Economies and American Cultures Engaged Scholarship (ACES) Faculty, International and Area Studies (IAS) and Peace and Conflict Studies (PACS)
Dr. Burns received the Innovation in Teaching Award for creating and instructing his course IAS 158AC/PACS, 148AC, Social Movements, Urban History, and the Politics of Memory. This course examines the diverse history of movements for social justice in the San Francisco Bay Area with a focus on how these movements have engaged with social, economic, political and ecological changes in the region from 1769 to present. The course places a strong emphasis on indigenous efforts to resist colonialism, protect and build community; how communities of color have defended against urban redevelopment initiatives and gentrification through direct action and alternative spatial imaginaries; the links between histories of labor struggle, racial justice, and immigrant justice in the making of the contemporary environmental justice movement; the centrality of Berkeley students and faculty to the rise of the disability justice movement; and continued efforts to build equity and democracy for LGBTQ communities.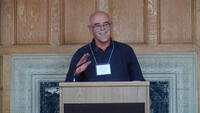 BRIAN POWERS, 
ACES Faculty, Sociology
Dr. Powers received the Innovation and Teaching Award for his AC courses, Sociology 3AC, Principles of Sociology, Sociology 113AC,Sociology of Education and Sociology 190, Senior Seminar in the Theory and Practice of Inclusive Schooling: Racial Diversity, English-Language Learners, and Students with Disability.
Covering a wide range of issues, these sociology courses are linked in the way they explore American racial disparities in education and other areas of life by examining the purposes served over time by the construction and enforcement of taken-for-granted, customary, and legally defined racial categories. Second, informed by principles of culturally relevant pedagogy, assignments and projects in these courses flexibly enable students of widely divergent backgrounds to meet personal and culturally meaningful goals in their work as they also meet the goals of a challenging academic curriculum.  And finally, through their assignments, students apply detailed academic perspectives to the analysis of lived experience in the social world, which they encounter in original data from structured interviews or direct observation off campus.  In different ways the courses highlight the links between personal experiences of students and others (situated in historical time and institutional space), and the design and dynamics of key social institutions, especially the class structure, the racial order, and the gender system, in relation to the family and educational system. Among other accomplishments in these classes, AC students have established ways schools strive to meet the learning needs of different groups of students on a day-to-day basis to satisfy the legal, constitutional requirements that individuals not be excluded from learning because of their race or ethnicity, their linguistic heritage, or any physical or psychological disabilities.